Tai Chi
---
Ask Jim Scott what stoked his passion for martial arts, and he'll take you on a stroll down memory lane – particularly to the 1970s when the television series "Kung Fu" was must-see TV and Robert Smith authored his book, "Chinese Boxing: Masters and Methods."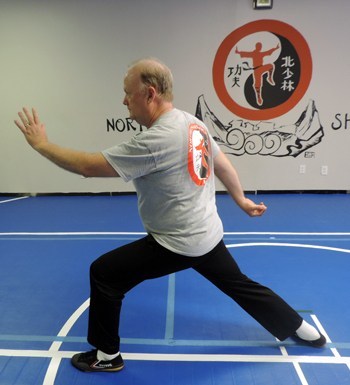 Those were just the start.
From 1989 to 1992, Jim studied the Cheng Man Ching style of Tai Chi under Shifu Keith Huey. He continued his studies under Shifu Huey, honing an array of Northern Kung Fu styles, including Shaolin, Lost Track and Northern Eagle Claw. In the late nineties, he studied the Fu style of Tai Chi with Jean Lukitsch, a senior student of Bow Sim Mark.
Since then, Jim has continued his martial arts studies with Keoni Everington. For a brief period of time, Jim taught students with the Winthrop Chinese Martial Arts Association. Now, he's an instructor at the Northern Shaolin School of Kung Fu, teaching Qigong, Tai Chi and Liang style Baguazhang.
But he's not all work and no play. Outside the studio, Jim enjoys eating salads with a variety of ingredients, teaching guitar and reading. He works in real estate and says he's happily married.